Virtual Tour of Total Turf
Total Turf Experience (TTE) is a premiere indoor/outdoor sports & entertainment facility in the Gloucester County area as a proud business of Mantua Township.
TTE is on 22 acres that consists of professional-style, lighted indoor turf fields for fast action, fun sports games and training. The complex also offers outdoor fields and 5 acres of secure, lighted parking. No matter what the weather conditions are, day or night, TTE provides athletes with a safe, clean, and friendly, atmosphere for sports enjoyment.
​
Several divisions for youth, men, women and co-ed provide all players-from beginners to highly skilled- the right environment for recreational yet competitive sports. League play and training is continuous year round.
​
The fields can be rented for a wide variety of uses such as practices, parties, corporate events, pre-season and post season team gatherings, camps, clinics, school grad nights, fund raising, tournaments, leagues and much more.
​
The facility features the 614 Grille which serves beverages and food. Other tenants include Energy Lab, Harper Driving School, Neck of The Woods Brewpub, Green2Tee Golf, Jupiter Embroidery, and Gloucester County Awards, Fellowship of Christian Athletes, NJ Flag and DPS Basketball
​
TTE also focuses on the health of the athlete, by having Reconstructive Orthopedics on site.
Total Turf Experience is recognized as Southern New Jersey's premier indoor sports facility by providing optimal programs in a state-of-the-art facility.
ABOUT OUR SPACES
Our party rooms hold 50 each. We have 3 separate party rooms.
Our indoor turf holds 888 people. ~ The court space holds 817 people. ~ We have parking for 500 vehicles.
We have 16 long tables (6-8 feet each that seat 8-10) & 18 round tables (seat 6-8 each)
Amenities include:
Approximately 23,500 total square feet

5 courts, A standard full-size basketball court runs 94 feet by 50 feet (4,700 square feet). (example for use: 5 full basketball courts or 15 pickleball courts)

Heated, no air conditioning.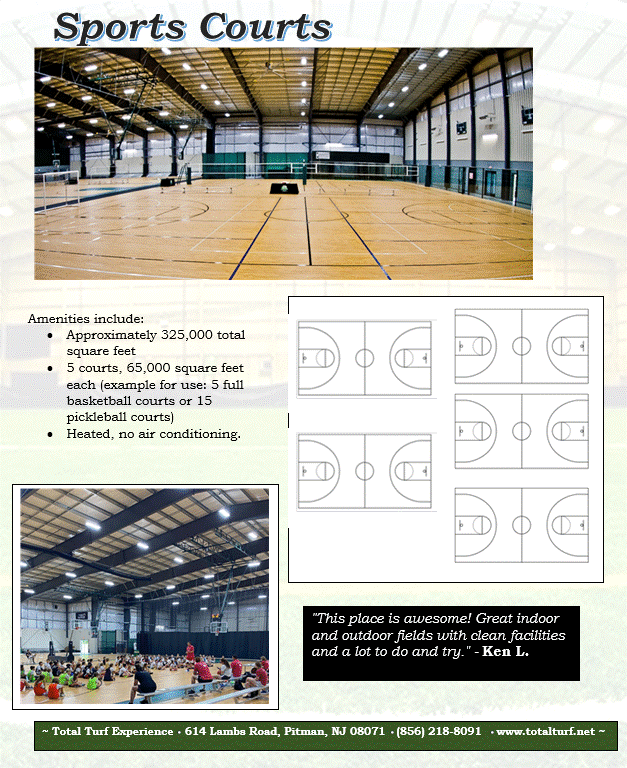 REFUND POLICY
Please note that when scheduling a rental there are NO REFUNDS unless cancelled 2 weeks before. For
LAST MINUTE BOOKINGS – we DO NOT offer credits for clients who book and cancel within TWO weeks of booking. Regarding events and birthday parties: these deposits are non-refundable and used to hold the time and date and will be put towards the final bill for the event.